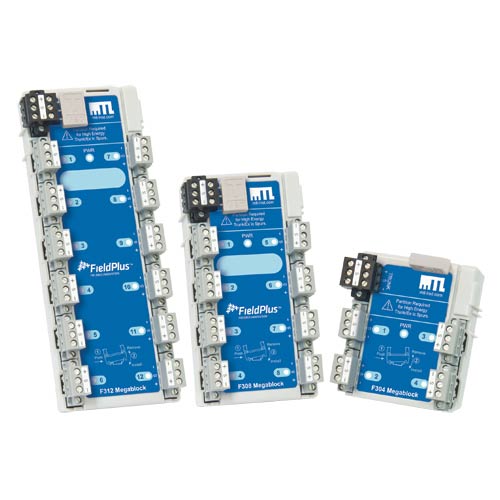 Megablock series of Wiring Hubs
A Megablock™ is a DIN rail mounted passive hub designed for use in FOUNDATION™ fieldbus H1 and Profibus PA networks. The choice of rising cage clamp screw or spring clamp terminals simplifies installation and maintenance.

Megablocks minimize hand wiring and allow individual devices to be added to and removed from the segment without disrupting network communication. The SpurGuard™ option provides short circuit protection for the segment.

Hazardous area approvals permit installation in a variety of configurations in Zone 1 or 2 and Division 1 or 2. Within Zone 2 or Division 2, Megablocks may be installed as part of non-sparking (non-arcing) or energy-limited (non-incendive) circuits.

Additionally, the F300 Megablock is designed for live connection and disconnection of fieldbus spurs without a gas clearance certificate in Zone 2 and Division 2 hazardous areas when used with Ex ic and non-incendive certified field devices.

The F300 Megablock Trunk In/Out pluggable connector allows replacement of a Megablock without breaking the trunk connection to other devices on the fieldbus segment. The F97terminator may be mounted in the Trunk-out connection to provide termination when the Megablock is located at the end of the fieldbus segment. It can be removed when the segment is extended, to ensure correct termination.

Pluggable surge protection components for the fieldbus trunk and individual spurs are available as an option reducing the installed cost of providing surge protection on fieldbus networks.
General Purpose
Zone 2 and Division 2
Zone 1 and Division 1
Intrinsically Safe
Zone 1
EEx me
F300
F2xx
F2xx-XE
FCS-MBx-SG1
FCS-MBx2
FCS-MBx2
1 - Classic product range
2 - Classic product range without SpurGuard™ short circuit protection
For a copy of the fieldbus SmartPlant Instrumentation (SPI) library ... <click here>
For the latest Fieldbus Segment Calculator tool that includes this product range <click here>
For product certificates <click here>
Produktbeskrivningar