Fieldbus Software Tools
We are no newcomers to the fieldbus environment. From involvement in defining the earliest standards through to representation on today's industry bodies, Eaton and Relcom have attained a distinguished profile in fieldbus technology. And to maximise your efficiencies using our equipment we have produced various software packages designed to help fieldbus engineering.
---
Fieldbus Segment Calculator v2.05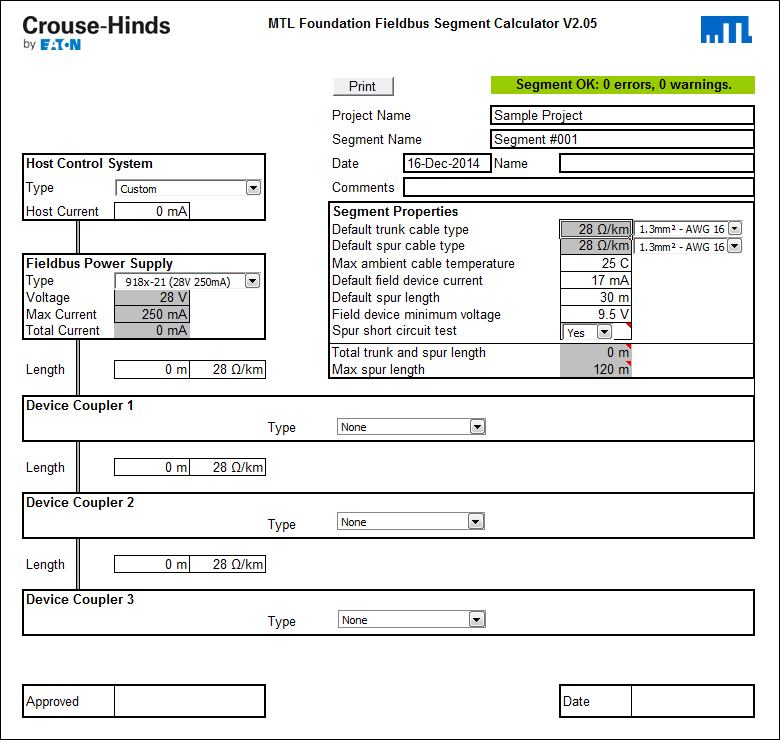 The MTL Fieldbus Segment Calculator is intended to assist network and planning engineers when designing and implementing FOUNDATION fieldbus ™ H1 networks. It models the behaviour of user-selectable power supplies and device couplers, and provides a rapid "Go/No-Go" indication of the electrical characteristics of the fieldbus network. All the relevant parameters of the fieldbus segment are easily configurable, including field device currents, cable lengths, cable cross-section and number of fieldbus spurs. Power supply, device coupler and host control system types are easily chosen from pull-down menus, or can be user-defined.
The new 2.05 version merges the earlier, separate tools for Fieldbus Barriers and Megablock Device Couplers, and covers the following device types:
9180 Series FF general purpose power supplies
910x-22 Series redundant FISCO power supplies
9122-IS Series simplex FISCO power Supplies
F100 Series simplex general purpose power supplies
F800 Series redundant power supplies
F600 Series classic redundant power supplies
Custom (user selectable) power supplies
F300 Series Megablock device couplers (general purpose applications)
F300 Series Megablock device couplers (Ex ic spur applications)
F200 Series intrinsically safe Megablock device couplers
F200-XE Series Zone 1 Megablock device couplers
FCS-MBx-SG 'classic' Megablock device couplers
937x-FB Series Fieldbus Barriers
The calculator uses a spreadsheet-based platform and does not require any executable programme files to be installed on the user's machine – avoiding the need for special permissions or administrator rights. Parameters can be easily copied and pasted into other software applications or printed as a permanent record of the segment characteristics.

NOTE: Macros must be enabled for the tool to operate
<Click here> to download the Fieldbus Segment Calculator v2.05
---
MTL SmartPlant Instrumentation (SPI) symbol library for FOUNDATION fieldbus™ components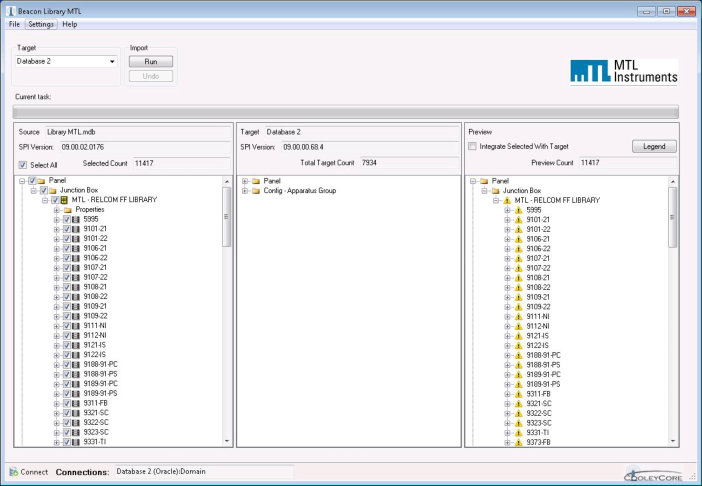 We have made it easier for engineering designers and end users to use their FOUNDATION fieldbus™ products by developing a utility to import the complete range of MTL-Relcom fieldbus products (Power Supplies, Megablocks™, surge protectors,Fieldbus Barriers and Entity conversion blocks) into SmartPlant Instrumentation version 9 and 2009.
This new, updated version of SPI includes all the latest products and ranks among the most successful examples of the new generation design tools created to reduce the cost of designing control systems. The cost of designing a single control loop can be in excess of one man-day, so using tools like SmartPlant can dramatically reduce these costs. The utility, including all associated files is available for download below.
<Click here> to download the SmartPlant library v2012.