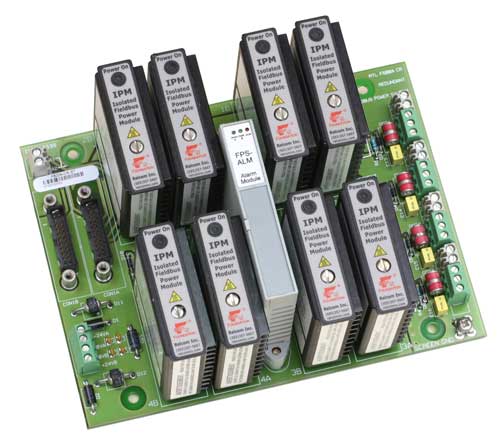 Classic Redundant Fieldbus Power Supplies
The F600A Series has now been superseded by their equivalent in the 9180 Series. For new applications, the 9180 Series is recommended, this offers benefits of greater efficiency, multichannel modules and superior functionality.
The F600A Series option provides multi-segment fieldbus power using the FPS-IPM power modules.
Where indicated below, "Drawings" are dxf files of the product that may be included in AutoCAD® or equivalent CAD software packages.
For product certificates <click here>
Produktbeskrivningar
| Produkt kod | Beskrivning | Nedladdning |
| --- | --- | --- |
| F600A | Four-segment redundant fieldbus power supply/conditioner specifically for use with Yokogawa ALF111 | Datasheet |
| | | Manual |
| F610A | Four-segment redundant fieldbus power supply/conditioner specifically for use with Foxboro I/A | Datasheet |
| | | Manual |
| F618D | Eight-segment redundant fieldbus power supply/conditioner specifically for use with Foxboro I/A | Datasheet |
| | | Manual |
| F650A | Two-segment redundant fieldbus power supply/conditioner specifically for use with Honeywell Experion | Datasheet |
| | | Manual |
| F660A | Four-segment redundant fieldbus power IOTA specifically for use with Honeywell Experion "Series C" | Datasheet |
| | | Manual |
| F690A | Four-segment redundant fieldbus power supply/conditioner | Datasheet |
| | | Manual |